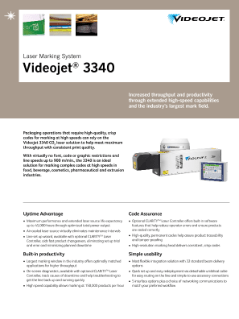 Increased throughput and productivity through extended high-speed capabilities and the industry's largest mark field.
Packaging operations that require high-quality, crisp codes for marking at high speeds can rely on the Videojet 3340 CO2 laser solution to help meet maximum throughput with consistent print quality.
With virtually no font, code or graphic restrictions and line speeds up to 900 m/min., the 3340 is an ideal solution for marking complex codes at high speeds in food, beverage, cosmetics, pharmaceutical and extrusion industries.
Back to Hub
Please enter your details below