Videojet® 1620 and 1650 High Resolution Micro Printers Brochure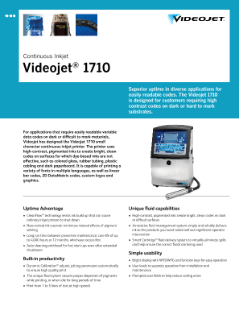 When print size is everything and clarity is critical, the Videojet High Resolution (HR) inkjet is built to perform. By delivering uncompromised quality down to the smallest 0.6mm (1/32") print height and speeds of up to 348m/min (1,142fpm), the printer helps guarantee legible codes on even the smallest print areas. Capable of printing up to three lines of print, 2D and linear bar codes, our HR micro printers address demands for more content in less space.
Available in two options; the 1650 HR features our exclusive CLARiTY™ touchscreen interface offering built-in productivity tools to boost OEE. The 1620 HR offers a simple keypad interface that is robust and easy to use.
Back to Hub
Please enter your details below